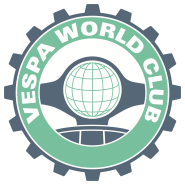 The Vespa World Club (VWC) is the worldwide umbrella organisation for all official Vespa Clubs. It's tasks include the coordination and support of all the official Vespa organizations as well as all international Vespa club activities, to plan it's own events (Vespa World Days, Vespa Days, tournaments, etc.) and to promote the members' team spirit. In addition the organisation looks after the Vespa brand and represents it's members when dealing with third party organizations (FIM, EU, UNO, etc.).
The focus of the Vespa World Club's work is set on the members and not on the Vespa! Vespas cannot establish a club, people can. The organisation cannot service or move 250,000 Vespas. A club (people) can organise 70,000 members (people). The VWC and it's mmebers represent a political, but not a party political, club. The club and it's members, who are open and socially minded, work on an international unterstanding between the nations, which was one of the aims of the Vespa clubs when they were started. Excessive nationalism, discrimination and hate (regardless of its form) has no business in the VWC. As a multi-national club, with a wide variety of member interests (sport, tourism, old-timer, cultures, 70,000 different personalities etc. etc.) these are the base for a thriving togetherness and delight in the same hobby.
The Vespa World Club was founded in 2006 by Piaggio and the Piaggio Foundation.It's predecessor was the "Federation Internationale des Vespa Clubs" (FIV), which has to be dissolved after financial problems. Today the Vespa World Club has members from 54 countries with more than 70,000 members organised in local clubs.
More information: www.vespaworldclub.com