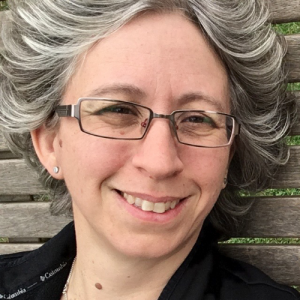 Our Claire – our Mrs. Vespa World Days 2017. It is due to her dedication that we have been seen and perceived by the outside world. She is the person who, in the last few years, transported the vision of "our" Vespa World Days out into the world
Amore
Claire didn't drive a scooter until 2010 – starting with a Vespa 50N, as at the time she didn't have a motorbike license. She was infected by her husband Friedemann! Hence it was love which brought Claire to Vespas.
Since she passed her motorbike driving test in 2011 she has been driving a Vespa PX 125 with a 166 Malossi. For a couple of years this has borne the flag of her mother country – the Union Jack.
British Born
Claire grew up in Eastbourne, not far from Brighton. The legendary Beachy Head was a favourite place for a day trip while she was growing up. But then it was easier to walk there, especially as she didn't even know what a Vespa was. Unfortunately she hasn't made it home with a Vespa in the time since 2010.
Vespa, her daily companion
Most days Claire drives to work with her Vespa and she also regularly takes part in VC Celle day trips. In the last few years she was at the VWD2013 in Belgium and the VWD2016 in France. She also went to the German Vespa Days both in 2012 and in 2014 as well as to the VC Hamburg anniversary rally in 2016.
A favourite was the VWD2013 in Belgium. The international family and meeting the individuals are the things she likes the best about these rallies. Hence she feels that the Vespa World Days 2017 in Celle are a perfect meeting place for friends to have a great time together and to be able to discuss the mutual hobby.
Looking forward to the Vespa World Days 2017!
Claire is also looking forward to the event! But she won't really be able to be happy until it actually starts and once she knows that the planning is completed and the work has (hopefully) been successful.
Once the Vespa World Days are over, the family holiday in Ahlbeck on the island of Usedom is her first priority. She is also looking forward to that – at least a little bit.